---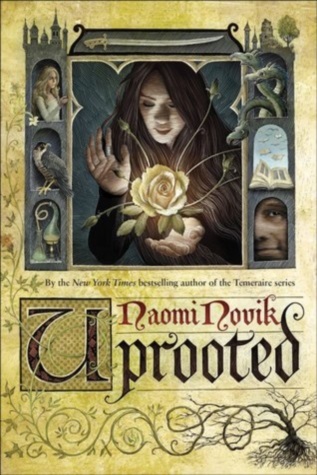 Genre: Fantasy, Folklore, Retelling, Young Adult
Pages: 435
Publication Date: May 19th 2015 by Del Rey
Synopsis:
"Our Dragon doesn't eat the girls he takes, no matter what stories they tell outside our valley. We hear them sometimes, from travelers passing through. They talk as though we were doing human sacrifice, and he were a real dragon. Of course that's not true: he may be a wizard and immortal, but he's still a man, and our fathers would band together and kill him if he wanted to eat one of us every ten years. He protects us against the Wood, and we're grateful, but not that grateful."
Agnieszka loves her valley home, her quiet village, the forests and the bright shining river. But the corrupted Wood stands on the border, full of malevolent power, and its shadow lies over her life.
Her people rely on the cold, driven wizard known only as the Dragon to keep its powers at bay. But he demands a terrible price for his help: one young woman handed over to serve him for ten years, a fate almost as terrible as falling to the Wood.
The next choosing is fast approaching, and Agnieszka is afraid. She knows—everyone knows—that the Dragon will take Kasia: beautiful, graceful, brave Kasia, all the things Agnieszka isn't, and her dearest friend in the world. And there is no way to save her.
---
---
My Thoughts
One thing comes to my mind when I look at this book – why did I wait so bloody long to read it? It has been sitting on my shelf for almost a year, I keep putting it off because I had a feeling it was a book I was going to need an entire day to dedicate myself to.

I was right.

My inner book dragon came out and I devoured it in a day – it was a buddy read which forced me to read it and man, oh man, I shoved aside my daily chores, made sure my kids were taken care of and set to devouring this in a day.

I've never read anything like this, but it paints a glorious picture in the mind's eye and the way the world works, the way things are and how the Dragon Lord comes every decade to pick a tribute, to do with as he pleases. Everyone has these heinous thoughts of what actually transpires and it couldn't be further from the truth.

Everyone knows it'll be Kasia that he will pick, but when he doesn't – when he seemingly makes a mistake and selects the most unlikely tribute who seems to be more mud guppy than anything – everyone wonders why Agniezska!

The character development in this book is stunning, Agniezska grows by leaps and bounds in a realistic fashion. She is pushed, tried and has enough back bone to offer herself more growth, what started off as something a trifle annoying to me made me consider that if she hadn't stumbled into the situations she found herself in she wouldn't have been given the option to grow.

The Wood is the villain in this book, which offers a strange, unique and eerie quality to the book, they are all fighting against the Corruption – a blight on the land – seeking to destroy and eat up everything in its land. It causes the land, livestock, and human beings to grow ill and spread more corruption/illness.

Is there romance? Yes, but it sits comfortably in the back seat and honestly it's just enough romance to make one's heart content but not enough to cause severe eye-rolling. I enjoyed the teasings, but this is more about conquering an evil or quelling it. This is about character growth and sating a world that is threatened by a Corrupted Wood.

Holy Pages! This was such a fantastic read. I totally recommend it and if you've been putting it off like I had been, STOP.. Clear your schedule and read this… because once you get past the first few chapters, once you're thrust into the life of the Dragon Lord's tribute… You're not going to want to put it down!

This will be marked on my favorites. Definitely.
---
Have you read it? Do you want to?!