★★★★☆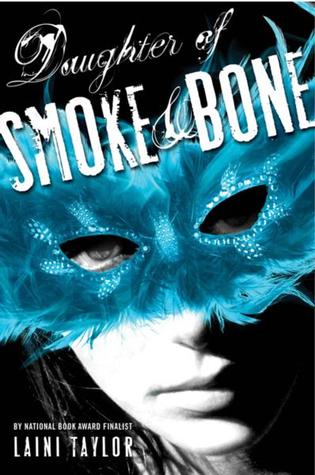 "Happiness. It was the place where passion, with all its dazzle and drumbeat, met something softer: homecoming and safety and pure sunbeam comfort. It was all those things, intertwined with the heat and the thrill, and it was as bright within her as a swallowed star."
More like a 3.5 stars,
This would be more accurate than a straight 4. Why? Well, there were some elements that I didn't find were necessary, now some may like these, but I didn't. That is the glorious thing about opinions and views!
So, let me tell you what I didn't like.
I don't tend to like stories that are written backward, what I mean by that is we start the book off with Karou, just a simple 17 year old girl who has tattoos, blue hair and oh um works for a devil of sorts. No biggie, right? She just goes about collecting teeth from traders and returns them to Brimstone, her devil surrogate father.
From there we work our way [slowly,] to meeting a Seraphim – Akiva. We begin having flashbacks which actually take away from the present. It is beautifully written, but I wasn't a fan of the abrupt halt of the CURRENT story to what was just filler with flashbacks. However, they are beautiful though, this entire book is beautiful. Some lines are akin to poetry, but I was not at all a fan of the flashbacks – filler that took away from the current story and somewhat [to me,] made it less progressive, like the characters weren't as developed as they could have been in this current situation.
The world or should I say worlds are wonderfully crafted though, Laini Taylor makes things her own and puts a twist on good vs evil. Good suddenly is viewed differently, from the other side of the fence it is viewed as well…not so good after all. It boasts of how there are always two sides to the coin as well as in wars.
The ending to this book leaves you wanting to know more and even though I found myself teetering on whether or not I actually wanted to read the second book [Days of Blood & Starlight,] Akiva's tangible anguish really moved me to want to know and learn more about him.
A very interesting read!