★★★☆☆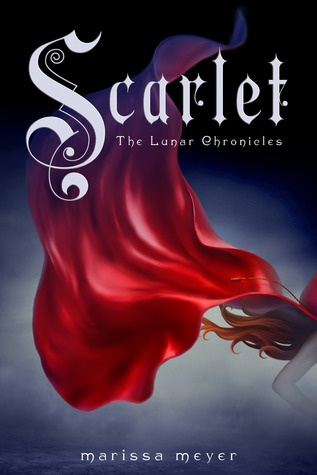 I think I need to stop reading books named Scarlet, I don't have a good track record with them.
This book is vastly overrated, while this is my opinion on the matter I'm going to tell you why I feel this way.
For starters, this is loosely based off of Little Red Riding Hood and is a retelling that doesn't really have much to do with the original tale at all. When I say loosely I mean that… there is a girl with red hair named Scarlet, there is a grandmother and then there is a "wolf" creature. That's it. There are science fiction aspects with the book such as airships and another planet with a different race of people "lunars." This is the second book in the series and I bypassed Cinder because it wasn't available from my library. I all along said that I would not be purchasing these books because I long since gave up on "hype" books. Thank goodness.
Scarlet, I have no nice things to say about her. She is foolish and inconsistent with her personality, I find that is so with most of Meyer's characters. Scarlet's grandmother goes missing and she decides to take it on herself to figure out why and how. While the story has holes in it, it is a rather interesting idea, which is probably the only reason why I continued to read on.
We meet several characters from the previous book including Cinder herself, Kai and the list goes on. We often see them in between scenes or chapters, which although I had no issues with, I wish there had been more depth in regard to "Wolf" and Scarlet.
In the end there is a twist that I actually didn't see coming because I have no idea what the first book in the series is about aside from Cinder, who I picked up on small bits and pieces about her life grew up in a home much like a Cinderella I prefer.
I feel like this book is overrated, mostly because when you read it you feel like you can embellish on it and make it better in your head, but when you pull back and realize its really not that great. That's how I felt with this, the ideas were there and the story could have been much better, but it wasn't there. It was worth a 2.8 rating. 3 is generous.