★★★★☆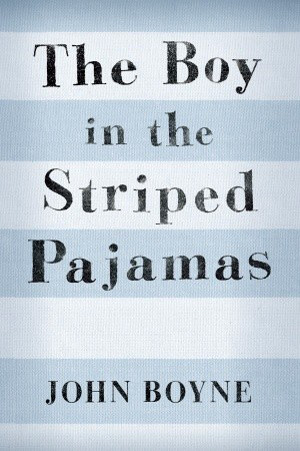 I don't care what other reviewers may say about this book being a joke, or pointing out some flaws in this book. Every book has flaws, beauty is in the eye of the beholder, right?
This is my review though.
Again, I'm behind times on reading a book. I saw this movie a while back and it has stayed with me. At a young age I found myself enthralled with this topic, I wanted to learn more about the survivors and those who had been forced to endure such horrors that would almost seem fictional. This is a topic that makes me physically hurt for the Jewish people for what they had faced then and what they are surely to face again.
Bruno is a rather naive 9 year old boy, but I believe this is the purpose. He is shielded from the life that his father lives, an upper officer in the army. The family is forced to leave their luxurious home in Berlin and are to live at a concentration camp where Bruno's father is very much needed. Since he is sheltered, he doesn't know much about where he is or why there are hundreds of people who live behind a fence. This has been ridiculed as him being a nonsensical, foolish nine year old who acts more like a six year old in previous reviewers, but I think it add a naive, innocent quality to him… that stays with him.
You see him develop friendships with the obviously Jewish people and he is perplexed with the treatment of them by his family as well as other officers. He sees them as people, treats them as no differently than himself, because they are people. He develops what comes across as a shallow friendship with Shmuel, this is because of Bruno's brand of naivety. He doesn't grasp much of what is going on and as things begin to click into place he still doesn't seem to let it change his views.
The end of this book differs from the movie, but it isn't any less heartbreaking.
'You're my best friend, Shmuel,' he said. 'My best friend for life.'