★★★☆☆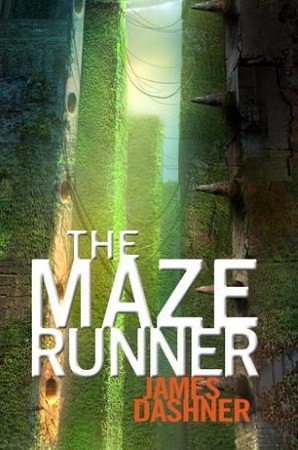 So, first of all, I'm going to be as nice as possible given that if the roles were reversed, I'd definitely want someone being nice and not roasting me!
We start off the story utterly confused alongside the mainer character, Thomas. We don't know where we are, where we came from or pretty much anything else because his memory has been wiped. Immediately, we are thrust into a world that is bizarre! The language and jargon used isn't the most clever and can honestly be more annoying than funny.
We learn there is an order and to step outside this order is to spark the ire of the higher ups, which are just boys as well! Thomas is supposedly sixteen years old! Yet he questions things like he is a twelve year old – memory wipe aside – there are still things he would know and not feel the need to question. Which leads us into all of the questions that are not answered for the longest time if ever answered.
I remember reading something in regard to mystery, it said to keep your audience guessing, but give them enough to keep them interested. I honestly had to read into 130 pages to find myself interested at all, because questions began to be answered. Sure, more came at me, but they were finally answered in some fashion – I could have just shut the book at 30 pages into it, because I wasn't satisfied with what I was reading. Cranky characters not willing to divulge information and a writer who was likely snickering at being so clever to withhold all this information – it was frustrating for me.
So, we fast forward to a girl arriving a day after Thomas – yeah, 130 ish pages or so into it and it's only been 24 hours! Things begin to pick up from here, you begin to see some answers coming out of the weeds [literally.] The girl is Theresa! And we're beginning to view Thomas as an enemy, things are changing immediately after his arrival.
There are a few things that happen in here that change the story a little and still don't really answer your questions. Just more fingers are pointing at Thomas.
I'd like to step away from the story for a moment to point out some of the characters. They aren't really set apart from one another.. They're somewhat flat and this includes our Main Character/Hero, Thomas. Others just somewhat blend in together, although my personal favorite was Minho. He seemed to have more personality than the rest.
Back to the story! We're beginning to see things unfold, if you stayed with the book, you're probably almost 230ish pages into it as things actually begin to become interesting. You find out more and more with the page turning, as everything seems to begin to be rushed through.
Now you're left with more questions which has hopefully [or maybe not…] driven you to read the second book in the series.
In closing, I'm going to say that personally I felt this book had great ideas, there was amazing visuals, but the nonsensical chatter that often occurred left a bad taste in my mouth.. and a lot seemed to be filler to lead up to what will just loop you into the second book.
Personally, if my sister hadn't been cheerleadering me through the trilogy I would have dropped this book and wouldn't have looked back with regret.
Altogether I will give it 2.5 stars…3 is generous.
Happy Reading!